Boo! It's Halloween again. This year it falls on a Sunday so that means plenty of time to enjoy all the activities that surround Halloween.
The word Halloween translates into 'hallowed evening' and the Halloween tradition started with the ancient Celtic festival of Samhain. The celts believed that this time was associated with death and they would light bonfires and wear masks and costumes to frighten the ghosts away. In the 8th century, the 1st November became the date to honour the saints and this was called 'All Saints Day'. Some of the Samhain traditions were carried over into this day and on the evening before All Saints Day, known as All Hallows Eve, people would dress up in costumes and go knocking on doors. All Hallows Eve then became Halloween, and in later years this has become the more traditional Halloween that we all know where we enjoy activities such as trick or treating, dressing up, carving pumpkins and eating sweets.
What a great time to spend with the kids, family, and friends. Last year was a little different with physical distancing restrictions in place due to the pandemic, but hopefully this year we can all make the most of it and have a lot of fun. So, if you're looking for ideas for things to do and healthy food to eat, look no further as here are our personal favourites!
The first thing to do at Halloween, and we still do this, is to carve a pumpkin, or two 😊 It's great fun carving different faces or animals and seeing what they look like with a candle inside, in the dark. Don't waste the flesh, this can be used for pumpkin soup or added to stews, curries and stir-frys.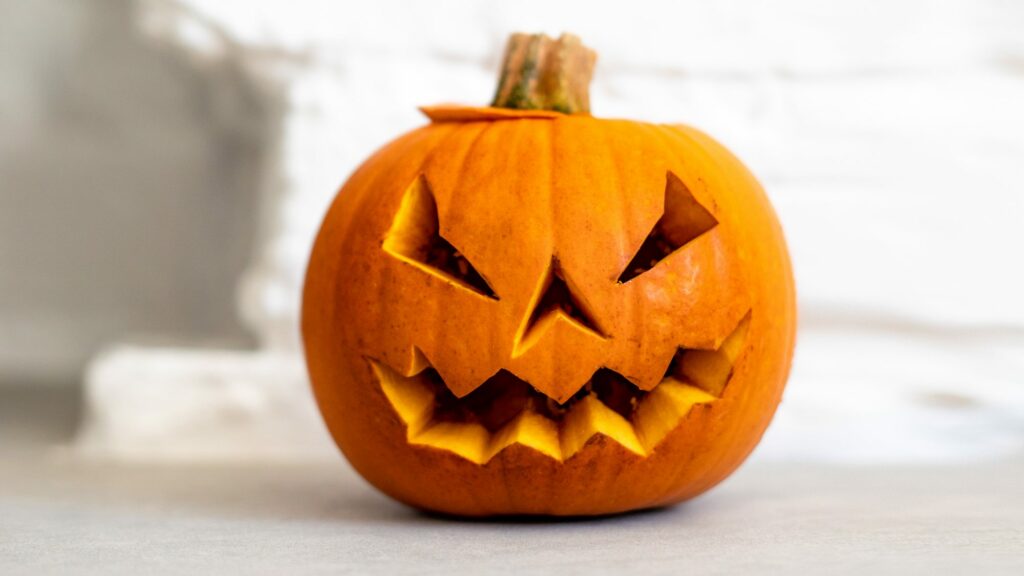 Have fun decorating the inside and outside of the house, especially if you have friends coming round.
Dress up regardless of if you are going out or not. It's a great excuse to be a witch, cat, skeleton, bat, clown, zombie, spider or whatever takes your fancy. Use face paints to complete the look.
If you're looking for something to do with the kids, and the weather is good, how about an outdoor treasure hunt. You can decorate the garden with the lovely pumpkins that you've carved, skeletons, tombstones, cobwebs and lights. Hide sweets and treats around the garden, play some spooky music, and let them run around trying to find them. Hopefully, this will tire them out too 😊
If you're looking for something to do inside, have a go at making Halloween masks. Let them run wild with crayons, glue, glitter and paint and see how scary their masks are.
Spend some time baking Halloween treats such as cookies and cupcakes. Make them look like witches, cats, cobwebs, bats, ghosts, teeth with bloody fangs or skeletons.
Go for a lovely autumnal walk, get some fresh air and take notice of all the different colours. If you have children, turn it into a game by asking them to find things along the way such as acorns, conkers, pine cones or feathers.
If your children are older, turn the lights off, grab some popcorn, get snuggly and watch scary films.
Halloween Recipes
Cocktail
Enjoy a Halloween cocktail – try this spooky, witches light margherita!
Makes 6 cocktails
Ingredients:
2 hibiscus tea bags
1 cup of tequila
½ cup unsweetened pomegranate juice
3 freshly squeezed oranges
5 freshly squeezed limes
1 tablespoon agave nectar (optional)
2 tablespoons black lava salt (optional)
Method:
Place the tea bags and tequila into a jug and stir.
Leave to infuse until the tequila turns red, then take out the teabags and throw away.
Add the pomegranate, orange and lime juice to the jug. Stir well and add the agave nectar if using.
If using the lava salt, place in a small bowl. Rub half the rim of each glass with a lime wedge, and dip into the salt.
Add ice to the jug and stir well. Serve immediately.
Snack
If you're fancying a healthy snack to go with your cocktail or your film, try these yummy sweet potato crisps.
Serves 2
Ingredients:
1 large, sweet potato
2 tablespoons olive oil
Salt to season
Method:
Heat the oven to 180°C.
Slice the potato thinly and pat dry to remove any moisture.
Use a sharp knife to cut the face into each slice.
Place the slices into a large bowl, add the olive oil and salt, and make sure all the slices are well coated.
Spread the slices out on a baking tray and bake for 40 minutes, turning halfway, until the edges are lightly browned.
For more yummy snack and dessert ideas, take a look at our Treat Recipe blog.
Main
If you're fancying a hearty, warming Halloween meal, look no further than this lovely pumpkin and chickpea curry (taken from BBC Good Food).
Serves 4
Ingredients:
1 tbsp sunflower oil
3 tbsp Thai yellow curry paste, or vegetarian alternative
2 onions, finely chopped
3 large stalks lemongrass, bashed with the back of a knife
6 cardamom pods
1 tbsp mustard seed
1 piece pumpkin or a small squash (about 1kg)
250ml vegetable stock
400ml can reduced-fat coconut milk
400g can chickpea, drained and rinsed
2 limes
large handful mint leaves
naan bread, to serve (see recipe below)
Method
Heat the oil in a saucepan, then gently fry the curry paste with the onions, lemongrass, cardamom, and mustard seed for 2-3 mins until fragrant.
Stir the pumpkin or squash into the pan and coat in the paste, then pour in the stock and coconut milk.
Bring everything to a simmer, add the chickpeas, then cook for about 10 mins until the pumpkin is tender.
The curry can now be cooled and frozen for up to 1 month.
Squeeze the juice of one lime into the curry, then cut the other lime into wedges to serve alongside.
Just before serving, tear over mint leaves, then bring to the table with the lime wedges and warm naan breads.
Here's Hannah and Jonny's favourite naan bread recipe to go with the curry.
Ingredients: Serves 2
80g plain flour
A pinch of ground garlic
A pinch of coriander
A pinch of salt
80g Greek Yogurt
(This can be made Gluten Free by using Gluten Free plain flour and adding ¼ tsp xantham gum)
Method:
Mix all the ingredients together in a bowl until well combined.
Flatten out onto a baking tray and grill for 4-5 minutes each side. Keep checking to make sure that it doesn't burn.
Have a look at our blog from last year which includes more delicious Halloween meal ideas!
We hope that you have the best, spookiest halloween ever!
PS Don't forget to check out our 2019 Halloween Charity Dance! We're hoping to be back with a Christmas Charity Dance this year after having to postpone all our events last year! It's great fun and raises money for a very important Charity, The Shoebox Project.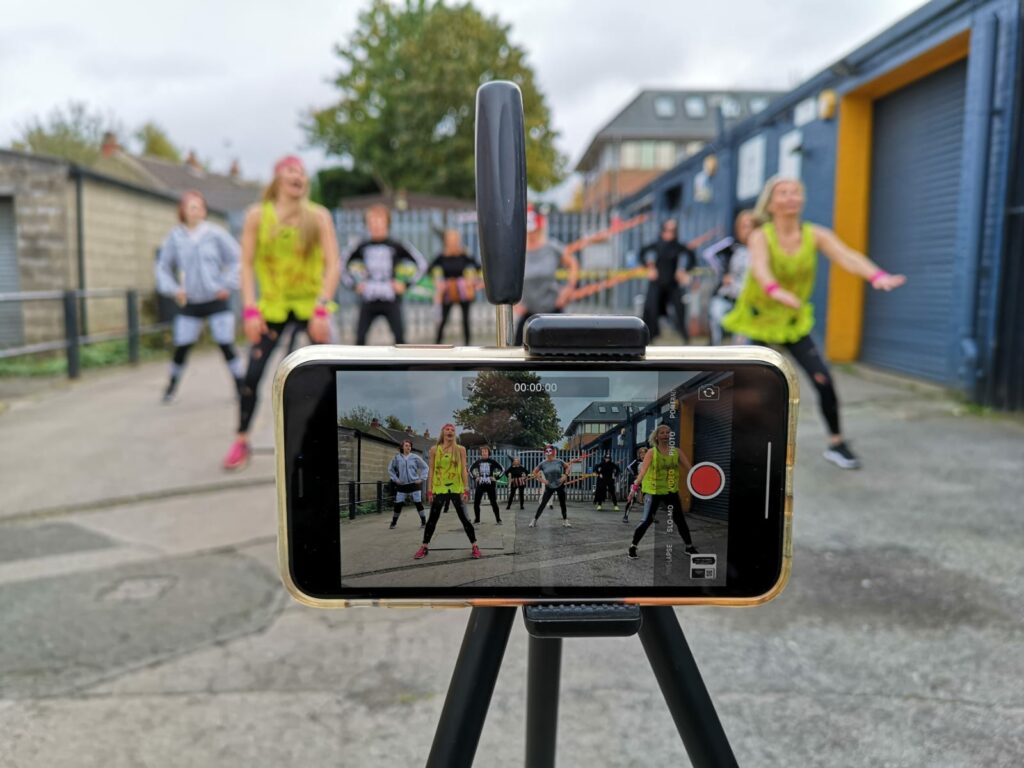 Much Love
Caroline & Hannah xx