Halloween is NEXT WEEK! How quick has this month gone!
Do you know what you're doing for Halloween yet? If not, check out last weeks blog to give you some ideas – plus, there's some delicious dinner ideas in there too that the whole family will love!
This week we're looking at some Halloween treat recipes. Often Halloween is associated with sweets, chocolate and sugar highs! But if you're looking for something delicious to fill your little one up before they raid their trick and treat bag, here are a few of our favourite snacks:
Cheesy Broomsticks
These calcium rich snacks are the perfect treat for any Witch. They might be a little fiddly for little fingers to help make, but they'll definitely love playing and munching on them!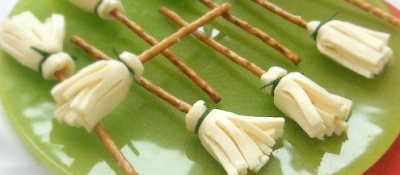 Ingredients
12 Slices of Cheese
12 Pretzel sticks
Fresh Chives
Method
Fold each cheese slice and cut the fringes of the broom using a pair of scissors.
Roll the slice of cheese around a pretzel stick, with the fringes looking down.
Finally, to keep the cheese around the stick, use some chive and knot it around.
[Recipe and Image from Cocinando con Catman]
Banana Mummies
Get in one of your five a day without your little one even knowing it! These banana mummies are great fun to make together, and you can get creative decorating them…just 1 eye or 5 – it's up to you!

Ingredients
3 Large Bananas
3 Tablespoons Cocoa Butter, gently melted
3 Tablespoons Powdered Coconut Sugar
Candy Eyes, Chocolate Chips, Currants or Raisins
Method
Have the kids peel and slice (with a butter knife) the bananas into 1-1/2″ chunks.
Skewer bananas with lollipop sticks, or use kabob skewers cut in half. Place on a parchment-lined baking sheet and freeze.
For the candy coating; in a small bowl, mix the melted cocoa butter with the powdered sugar.
Spoon a little drop of candy coating on a frozen banana and stick on an eye (or two, or three). Using a spoon, have the kids drizzle candy coating over the bananas in all directions, avoiding the eye(s). An egg carton turned upside down with little holes poked in the bottom made a good stand for whilst you work on them.
You can always get creative and decorate the bananas with whatever you and you little ones would like!
[Recipe & Image from Flo & Grace]
Monster Sandwiches
Here's one to make sure that your little monster is going to eat their lunch – monster sandwiches! You can always change the Olive eyes for something you know your child will enjoy.

Ingredients
Bread
Olives
Sandwich Meat (ham, chicken, or turkey slices are all ideal!)
Cheese slices
Toothpicks
A round cookie cutter or a glass and a knife
Method
First, take a cookie cutter and cut the center out of your bread slices. If you don't have a round cookie cutter on hand turn a glass turned upside down and use a knife to cut around the edges.
Next, put your choice of fillings inside and any sauces your little monster may like.
To make the teeth, simply cut jagged edges around half of a  slice of cheese and insert the cheese inside the sandwich on the bottom.
Make the eyes by snapping a toothpick in half, and inserting each half into an olive. Stick the olives in the top of your sandwich.
[Recipe & Image from My Own Road]
Jack-O-Lantern Sweet Potato Fries
These Jack-O-Lantern Sweet Poato Fries are the perfect side to any spooky dinner (you can also use white potato, parsnips or a combinaton if you wish). Get creative with your little one carving out the faces, before they crisp up in the oven!

Ingredients
2 

Large Sweet Potatoes

1/4 cup

 

Coconut Oil, melted

3/4 tsp

 

Salt

1/4 tsp

 

Onion Powder

1/8 tsp

 

Cinnamon

1/8 tsp

 

Cayenne
Method
Preheat the oven to 200°C.
Select two round sweet potatoes.
Peel the sweet potatoes, and slice off the thin ends, leaving the thick mid-section.
Slice the sweet potato into 1/8″ thin slices.
Carve jack-o-lantern faces into each sweet potato slice.
Mix the coconut oil and spices in a plastic bag, and toss the sweet potato slices in the plastic bag.
Place the slices on a cookie sheet and bake 20-22 minutes.
[Recipe & Image from Babble]
Brownie Spiders
And of course, there's got to be one that's for dessert! These will feel 'naughty' but in fact, if you use our W Fitness Brownie Recipe below, they're low in artificial sugar making them the perfect treat! You can get your little one to help mix the batter and create the 'spiders' – these are great for some Halloween fun.

Ingredients
For the Brownie
125g dark chocolate (100% cocoa)
100ml milk
100g unsalted butter, plus extra for greasing the tin
175g honey
150g maple syrup
Seeds scraped from 1⁄2 split vanilla pod
50g cocoa powder sieved
2 eggs
150g wholemeal spelt flour
1 tsp baking powder
For the Spiders
1/4

 

cup

 

semisweet chocolate chips

 

(melted)

26

 

pretzel twists

18

 

candy eyeballs
Method
For the Brownie
Preheat the oven to 190°C/170°C Fan/Gas mark 5. Grease a 30cm x 20cm brownie tin and line with greaseproof paper.

Put the chocolate, milk, butter, honey, maple syrup and vanilla seeds in a saucepan. Warm over a very gentle heat, stirring regularly, until everything has melted, and you have a rich, glossy looking batter. Remove the pan from the heat and whisk in the cocoa powder.

Allow the mixture to cool for a couple of minutes, then beat in the

eggs. Finally add the flour and baking powder. The mixture at this point will look grainier than usual because of the texture of the flour.
Pour the mixture into the prepared tin and bake in the oven for about 15 minutes until it is just set in the middle but still nice and gooey. Remove the tin from the oven and use the baking paper to help you slide the whole brownie on to a cooling rack as soon as possible so it doesn't continue to cook. Set aside to cool completely.
For the Spiders
Use biscuit or cookie cutter to cut 9 round "bodies" from the baked brownies. Place on wax paper or serving tray.

Break pretzel twists in three pieces on the rounded side to form spider "legs" and set aside.

Melt the chocolate chips in the microwave. Place a small amount of melted chocolate on toothpick and dab on the backside of each candy eyeballs to create a glue. Affix 2 eyes on the center, lower side of each brownie.

Insert 8 pretzel twists around the body of each spider to create the legs.

Serve the brownie bites immediately or keep in an airtight container for up to 5 days.
[Image and 'Spider' Recipe from Suburban Simplicity]
We hope you enjoy making these deliciously horrifying treats with your little one – have a fab Halloween!
Love,
Hannah & Caroline xx