BOO! We love Halloween at W Fitness and usually celebrate with a fun Halloween Dance that members and friends can join in with! It's great fun for everyone, but unfortunutely, Halloween this year is going to be a little different as we're still encouraged to social distance. However, that doesn't mean you can't make it a Halloween to remember! Take a look at a few of our Halloween Ideas for all the family!
Halloween Ideas
Virtual Escape Room. There are many escape rooms that you can now do online, and some you can do with friends and family through Zoom too! With scare-levels suitable for all the family, this is a great way to celebrate Halloween – and enjoy a little healthy competition too.
Horrifying Treasure Hunt. If you have young kids, setting up your own Treasure Hunt can be a great way to keep them entertained and make sure they don't feel like they're missing out on Trick Or Treating! Use Halloween Sweets & Chocolate as the treasure, and you can be inventive with Horrifying Clues for them to follow.
Good old family film night. An oldie but a goodie! If you're not sure what to do this Halloween, choose your favourite Horror film, and snuggle up on the sofa with some delicious Halloween Dinner and Treats – see our deliciously healthy dinner suggestions below:
Halloween Dinner Recipes
Halloween Stuffed Peppers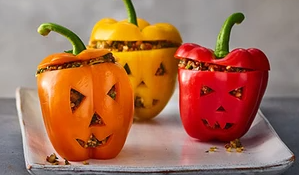 These are perfect as a snack or can make up the bulk of your dinner. Your kids can have fun creating the scary faces on the peppers and stuffing them!
Ingredients
4 small peppers (a mix of orange, red and yellow looks nice)
25g pine nuts
1 tbsp olive or rapeseed oil
1 red onion , chopped
2 fat garlic cloves , crushed
1 small aubergine , chopped into small pieces
200g pouch mixed grains (we used bulghur wheat and quinoa)
2 tbsp sundried tomato paste
zest of 1 lemon
bunch basil , chopped
Method
STEP 1

Cut the tops off the peppers (keeping the tops to one side) and remove the seeds and any white flesh from inside. Use a small sharp knife to carve spooky Halloween faces into the sides. Chop any offcuts into small pieces and set aside.

STEP 2

Toast the pine nuts in a dry pan for a few mins until golden, and set aside. Heat the oil in the pan, and heat the oven to 200C/180C fan/gas 6. Cook the onion in the oil for 8-10 mins until softened. Stir in the garlic, pepper offcuts and aubergine and cook for another 10 mins, until the veggies are soft. Add a splash of water if the pan looks dry. Season.

STEP 3

Squeeze the pouch of grains to break them up, then tip into the pan with the tomato paste. Stir for a minute or two to warm through, then remove from the heat and add the lemon zest, basil and pine nuts.

STEP 4

Fill each pepper with the grain mixture. Replace the lids, using cocktail sticks to secure them in place, and put the peppers in a deep roasting tin with the carved faces facing upwards. Cover with foil and bake for 35 mins, uncovered for the final 10. The peppers should be soft and the filling piping hot.
Creamy Pumpkin and Lentil Soup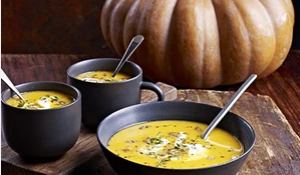 This delciously warming soup is perfect for a cold Halloween night, and it's a great way to use the seasonal Pumpkins for their nutritional benefits!
Ingredients
1 tbsp olive oil, plus 1 tsp
2 onions, chopped
2 garlic cloves, chopped
approx 800g chopped pumpkin flesh, plus the seeds
100g split red lentil
½ small pack thyme, leaves picked, plus extra to serve
1l hot vegetable stock
pinch of salt and sugar
50g crème fraîche, plus extra to serve
Method
STEP 1

Heat the oil in a large pan. Fry the onions until softened and starting to turn golden. Stir in the garlic, pumpkin flesh, lentils and thyme, then pour in the hot stock. Season, cover and simmer for 20-25 mins until the lentils and vegetables are tender.

STEP 2

Meanwhile, wash the pumpkin seeds. Remove any flesh still clinging to them, then dry them with kitchen paper. Heat the 1 tsp oil in a non-stick pan and fry the seeds until they start to jump and pop. Stir frequently, but cover the pan in between to keep them in it. When the seeds look nutty and toasted, add a sprinkling of salt and a pinch of sugar, and stir well.

STEP 3

Whizz the cooked pumpkin mixture with a hand blender or in a food processor until smooth, then add the crème fraîche and whizz again. Taste for seasoning.

STEP 4

Serve with a spoonful of crème fraîche, a few thyme leaves and the toasted seeds scattered on top.
Halloween Pizzas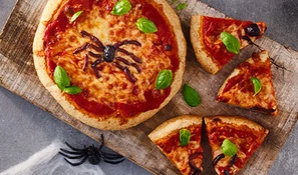 Another one the kids will love helping with! From getting messy kneeding the dough, to decorating with toppings, your little one can get creative with these Halloween Pizzas.
Ingredients
200g strong white flour
200g strong wholewheat flour
1 tsp or 7g sachet easy-blend dried yeast
250ml warm water
For the topping
300g passata
1 garlic clove , crushed
1 tbsp olive or rapeseed oil
75g grated mozzarella
10 black olives
handful cherry tomatoes , halved
handful basil leaves , to serve
Method
STEP 1

Mix the flours and yeast with a pinch of salt in a food processor fitted with a dough blade, or combine in a bowl. Pour in the water and mix to a soft dough, then work for 1 min in a processor or 5 mins by hand. Remove the dough, divide into 4 pieces and roll out on a lightly floured surface to rounds about 15cm across. Lift onto heavily oiled baking sheets.

STEP 2

Mix the passata with the garlic, oil and a little seasoning. Spread over the dough to within 2cm of the edges. Scatter with the mozzarella. Halve the olives and tomatoes. Place an olive in the centre of each pizza to make the spider's body. Cut the rest into little legs and arrange them around the spider bodies. Dot the tomatoes here and there. Leave to rise for 20 mins. Heat oven to 240C/ fan 220C/gas 9 or the highest setting.

STEP 3

Bake the pizza for 10-12 mins until crisp and golden around the edges. Scatter with the basil to serve.
We hope you have a Spook-tacular Halloween however you choose to spend it!
Love, Hannah & Caroline xx
[All Recipes and Images are from BBC Good Food.]