I want to be healthy… but I also want a snack
It's a Friday or Saturday night, the kids are munching on chocolates and your other half is crunching on crisps…but you're trying to be healthy.
Does this sound familiar? Using all your willpower not to pop a chocolate in your mouth, or a handful of crisps! You've tried eating a bunch of grapes instead, but somehow that just doesn't curb your sweet-tooth cravings.
Well, we now have the answer!
Chocolate that is healthy
Here we have our Chocolate Crunch Recipe! This recipe creates a big chocolate slab that you can cut into pieces or bars for a yummy, guilt-free treat that you can share with the whole family – or keep it for yourself!
After trying several variations and finding our favourite, we did the ultimate taste test – getting our members to sample it! And the feedback? They LOVED it! And once they tried the recipe at home, so did their kids and partners. This really is a recipe that tastes like it's naughty, but provides health benefits for the whole family!
This recipe is much healthier than the chocolate bars you'd buy in the supermarket as it contains natural sweeteners, rather than artificial, as well as no preservatives or E-numbers. Plus, as it contains nuts which as well as being packed with protein, also contain unsaturated fatty acids (the 'good' kind of fat that keeps your heart healthy) and other nutrients, including fiber and Vitamin E, it's actually GOOD for you too (in small portions of course!)
You can add any nuts, seeds and raisins you like – our favourite turned out to be a simple fruit & nut mix found in the supermarket, or of course, add none, or substitute for something else – this recipe can be adapted to your preferences, so have some fun trying lots of variations like we did!
So, here you have our Chocolate Crunch recipe:
This recipe takes 10 minutes to make + refrigeration time to set.
CHOCOLATE CRUNCH RECIPE
130g dark chocolate (85% cocoa or more)
125g almond butter/or any nut butter
25g coconut oil
175g chopped nuts/seeds/raisins
Maple syrup/honey to sweeten
Melt the chocolate, almond butter and coconut oil in the microwave.
Add the maple syrup/honey to sweeten (about 1 desert spoon) and mix in the nuts.
Line a baking tray or dish with greaseproof paper and pour the mix in.
Refrigerate until set.
We hope you enjoy! – let us know if you LOVE it as much as we do!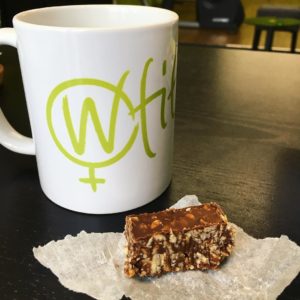 Please note: We've adapted this recipe from Big Man's World.
W Fitness | Park Centre, Station Road, Horsforth, Leeds, LS18 5NX | 0113 345 2550