How to Have a Healthy Easter
We're sure that we're all looking forward to Easter and letting our hair down a bit as we can now meet up with other family members and friends in our gardens. We want to show you how to have healthy Easter snacks and nibbles that you can indulge in without going overboard and overindulging.
Firstly, there is no need to deprive yourself. In fact, if you do, there is every possibility that you will binge later on. If you fancy some chocolate or cake then have it, but just be aware of the amount you're eating. Make sure that you are mindful of what you are eating. You don't have to eat all the Easter eggs in one day – enjoy them over the whole month.
Start the day by getting plenty of vitamins and minerals with a healthy breakfast such as avocado on wholemeal toast with a poached egg on top, or banana pancakes. If you like a full English breakfast, try to grill your bacon, tomatoes, mushrooms etc and have poached eggs or scrambled in a little spray oil. Make sure that you drink plenty of water throughout the day.
If you normally get Easter eggs, try asking for a nice book or some flowers instead – not from everyone but just to cut down on the amount of chocolate that you will receive.
Weather permitting, why not get outside and do some exercise with your family or friends, whether that's a nice long stroll or a brisk 10-minute walk. Even if it's raining, a short walk splashing in the puddles with the kids can be great fun. You can do the traditional Easter egg hunt with your kids, either hiding things around the garden or in the house, again depending on the weather. Instead of hiding lots of small chocolate eggs and treats, try to hide things like comics, colouring books, small toys, puzzles and maybe a voucher for a trip to the cinema and a pizza  (it's not too far away now ) and then the Easter egg can be the final prize.
We've taken some easy healthy Easter food ideas from the BBC GoodFood and Delicious websites to share with you (and they're not all chocolate!) You can get the kids involved in making some of these too and turn it into a fun activity.
Healthy Easter Bunny Pancakes
Serves 4 – 6
Calories – 107
Fat – 3g
Sugar – 2g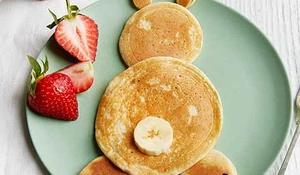 Ingredients:
50g self-raising flour

50g wholemeal flour2 small eggs, separated

150ml skimmed milk

A little oil for frying

A few raisins for bunny paws (optional)

30g banana, sliced for the tail

Extra chopped fruit, to serve
Put both the flours into a large bowl and whisk to break up any lumps. Add the egg yolks and a little of the milk, whisking to a thick paste. Add the remaining milk, a splash at a time, to loosen the batter. 

(Use whole or semi-skimmed milk if cooking for under fives, dependent on age.)

In a separate bowl and using a clean whisk, whisk the egg whites until they hold stiff peaks. Gently fold the egg whites into the batter with a spatula, trying to keep in as much air as possible. 

Heat a large non-stick pan over a medium heat and carefully wipe it with some oiled kitchen paper. Using a large spoon, add a generous dollop of batter to the pan in a round, for the bunny body. Add a smaller round for the head, two small ovals for feet, and two long thin strips for ears. Fit all the bunny components into the pan or cook them in batches. 

Flip the pancakes after a minute or two, once the edges are set, the base is golden brown, and bubbles start to pop on the surface. Cook for another min until golden brown. 

Put the bunny body in the middle of the plate, position the head, ears and feet just overlapping to look like the back of a bunny. Add a banana slice for the tail, and raisins (if using) for the feet pads. 

Repeat with the remaining batter. Decorate with extra chopped fruit if you like.
Healthy Easter Boiled Eggs
– Serves 4 – 6
Calories – 196
Fat – 6g
Sugar – 4g

Ingredients:
6 medium eggs

1 tbsp currants

1 small carrot, peeled and cut into small triangles

80g cherry tomatoes

80g sliced cucumber

30g rocket

A few springs of rosemary, to serve

Mini carrots to serve
Bring a large pan of water to the boil. Add the eggs and simmer for 10 mins. Drain the eggs and plunge into ice water to cool down, gently peel off the shells and discard. 

Cut some of the eggs in half and decorate with currants for eyes and a small triangle of carrot for a beak to create egg chicks. Slice the remaining eggs to create bunny shapes quartering some for ears and halving some lengthways for the body. Create a round tail by slicing the top off one of the eggs.

Decorate the plate/board with sprigs of rosemary and miniature carrots if you like. Serve with the cucumber, cherry tomatoes and rocket.
Healthy Veg Patch
– Serves 6
Calories – 134
Fat – 8g
Sugar – 3g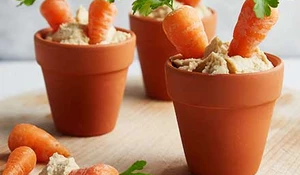 Ingredients:
1 X 400g tin chickpeas, drained and rinsed

½ lemon, juiced

1 garlic clove, crushed

2 tbsp olive oil

2 tbsp tahini

250g baby carrots

1 pot of parsley
 Put the chickpeas, lemon juice, garlic, olive oil and tahini into a food processor and blitz to a smooth consistency. Loosen with 1–2 tbsp water if it seems a little thick. 

Make a hole in the top of each carrot with a skewer or by cutting a small hole with the tip of a sharp knife. Dab a small amount of hummus into the hole and push in a small sprig of parsley. 

Spoon the hummus into thoroughly cleaned small, plant pots or bowls and push in the carrots. Let the children dunk into the hummus with the carrots. 
Sugar Free Ferrero Rocher Protein Balls
– Makes 20

Ingredients
10 pitted Medjool dates, torn in half 

1/2 cup (125ml) hot espresso 

1/4 cup (60ml) coconut oil, melted 

2 tsp vanilla extract 

2 1/2 cups (250g) hazelnut meal 

1 1/4 cups (220g) bukinis (roasted buckwheat from health food stores) 

1/2 cup (60g) cacao nibs 

1/2 cup (50g) cacao, plus extra to dust 

1/3 cup (35g) chocolate protein powder 

20 whole roasted hazelnuts 
Combine dates, espresso (or substitute warm water), coconut oil and vanilla in a bowl. Set aside for 10 minutes to soak. Using a stick blender, puree until smooth. 

In a large bowl, combine hazelnut meal, bukinis, cacao nibs, cacao and protein powder. Add date puree and a pinch of salt and stir until sticky and combined. 

Line a baking tray with baking paper and grease hands with a little coconut oil. Compress and roll mixture into 20 walnut-sized balls. Make an indent in the centre of each with your thumb, add a whole hazelnut, then reform ball around the hazelnut. Transfer to prepared tray and chill for 30 minutes to firm up. Dust with extra cacao to serve. 
Sugar Free Raspberry Sorbet
– Makes 1.25L
Ingredients:
6 cups (810g) frozen raspberries 

3 overripe bananas, cut into 1cm pieces, frozen 

60g fresh raspberries, roughly crushed 
In 3 batches, whiz frozen raspberries and banana in a food processor until smooth. Transfer each batch to one large bowl, then stir through crushed raspberries. Spoon into a 1.25L (5 cup) container. Serve immediately. 
We hope that you have fun making these and eating them as well of course! 
Have a very healthy, happy Easter!
Much Love 
Caroline & Hannah xx