This Bonfire Night is going to be a slightly strange one with lots of events being cancelled due to COVID-19. We usually love wrapping up and heading to our local bonfire to watch in amazement at the spectacular display, all whilst sipping a deliciously warming hot chocolate.
But this gives us a chance for new traditions!
We're planning on cooking lots of warming, healthy and delicous foods, having a few of our own fireworks and sparklers in the garden, and of course having the family round to celebrate together (in accordance with current social distancing rules!)
So let's take a look at a few delicious dinners, perfect for Guy Fawkes Evening!
Creamy Pumpkin Soup

Ingredients
1 tbsp

 extra virgin olive oil

4

 cloves of garlic, chopped

1

 onion, chopped

2

 pounds pumpkin (

1

 kilo), skin and seeds removed, chopped

2 cups

 vegetable stock or water (

500

 ml)

1 cup

 full-fat coconut milk (

250

 ml)

1/2 tsp

 salt

1/4 tsp

 ground black pepper
Method
Heat the oil in a large pot. Add the garlic and onion and cook over medium-high heat until golden brown, stirring occasionally.
Add the pumpkin and cook for another 2-3 minutes, stirring occasionally.
Add all the remaining ingredients and bring to a boil, then cook over medium-high heat for about 15 minutes or until the pumpkin is tender.
Blend the mixture in a blender (you can also use an immersion blender if you want) and serve immediately. I added some coconut milk, chopped fresh parsley, toasted pumpkin seeds, and ground black pepper on top.
Keep leftovers in a sealed container in the fridge for 5-7 days.
[Recipe & Image: SimpleVeganBlog]
Lighter Hot Pot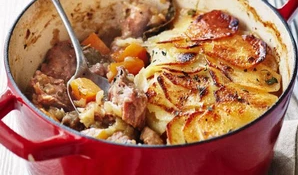 Ingredients
650g boned lamb shoulder , excess fat trimmed
4 tsp plain flour
1 tbsp rapeseed oil
2 medium onions , halved lengthways and thinly sliced
3 carrots (350g total weight), halved lengthways and cut into bite-sized chunks
225g swede , cut into bite-sized chunks
3 thyme sprigs , plus extra leaves to garnish
2 bay leaves
200ml chicken stock , made with 1/2 chicken stock cube
1 ½ tsp Worcestershire sauce
750g potato , such as Maris Piper or Desirée, very thinly sliced
Method
Heat oven to 190C/170C fan/gas 5. Cut the lamb into chunky 5-6cm pieces. Tip the flour onto a large plate, season with pepper and a little salt, and toss the lamb in the flour to coat evenly and completely. Set aside.
Heat 2 tsp of the oil in a large, deep frying or sauté pan. Put the onions, carrots, swede, thyme sprigs and bay leaves in the pan and season with pepper. Cook on a medium-high heat for 6-8 mins, stirring occasionally so it doesn't stick, until the vegetables start to go brown around the edges – the bottom of the pan should be slightly brown and caramelised too. Pour in the stock; it should sizzle then bubble in the pan. Immediately remove the pan from the heat so the stock does not reduce in volume. Stir in the Worcestershire sauce.
Overlap a single layer of the potato slices in the bottom of a 2-litre casserole dish (about 20cm diameter x 10cm deep). Lay half the lamb over the potatoes, then spoon half the vegetable mix over the meat. Season with pepper. Sit the rest of the lamb on top, then tip the rest of the vegetables, herbs and all the liquid over the lamb. Press down with the back of a spoon, if necessary, to make room for the remaining potatoes. Start to layer up the potato slices in 3 tightly overlapping layers, seasoning each layer with pepper and brushing with oil as you go – save a bit of oil for the top layer. Cover the dish with a tight-fitting lid and bake for 10 mins.
Reduce the oven to 160C/140C fan/gas 3. Cook for a further 2 hrs until the lamb is really tender and the potatoes are cooked. Take the lid off and pop under the grill for 8-10 mins until the potatoes are golden and crisp around the edges. Remove and let the hotpot settle for 5-10 mins, then serve scattered with thyme leaves.
[Recipe & Image: BBCGoodFood]
And of course, what's Bonfire Night without a traditional Parkin Cake?!
Parkin Cake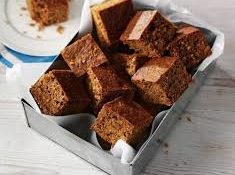 Ingredients
200g butter, plus extra for greasing
1 large egg
4 tbsp milk
200g golden syrup
85g treacle
85g light soft brown sugar
100g medium oatmeal
250g self-raising flour
1 tbsp ground ginger
Method
Heat oven to 160C/140C fan/gas 3. Butter a deep 22cm square cake tin and line with baking parchment. Beat the egg and milk together with a fork.
Gently melt the syrup, treacle, sugar and butter together in a large pan until the sugar has dissolved. Remove from the heat. Mix together the oatmeal, flour and ginger and stir into the syrup mixture, followed by the egg and milk.
Pour the mixture into the tin and bake for 50 mins – 1 hr until the cake feels firm and a little crusty on top. Cool in the tin then wrap in more parchment and foil. Keep for up to five days before eating if you can – it'll become softer and stickier the longer you leave it, up to two weeks.
[Recipe & Image: BBCGoodFood]
Plus, try this delicious Hot Chocolate from WellPlated.com
Health-ier Hot Chocolate

Ingredients
1

 

cup

 

unsweetened almond milk

 – 

or milk of choice 

2 1/2

 

teaspoons

 

unsweetened cocoa powder

1/2

 

tablespoon

 

pure maple syrup

 – 

plus additional to taste

Tiny pinch of kosher salt

 – 

or sea salt

1

 

tablespoon

 

chopped dark chocolate

 – 

or chocolate chips

1/4

 

teaspoon

 

pure vanilla extract

Shaved dark chocolate or chocolate chips

 – 

for serving
Method
In a small saucepan, heat the milk until just simmering. Whisk in the cocoa powder, maple syrup, and salt. Add the chocolate chips and vanilla. Whisk and heat until the chocolate is melted and smoothly combined.
Taste and add more maple syrup if you'd like it sweeter. Pour into a mug, and top with extra chocolate as desired.
Whatever you're upto this Bonfire Night, we hope you have a fantastic evening!
Love,
Hannah & Caroline xx
PS Why not book yourself in for a FREE Visit with us! Get ahead of the winter festivities (which all seem revolve around lots of delicious food!) by starting your journey to a healthier you today!
Or if you're not local to Horsforth, take a look at our online membership site, TonedIn10, full of real-time workouts ready for you to follow along to from anywhere in the World!