The 14th of February is around the corner and as we look forward to celebrating the day of love AND self-love, whether it's valentines, galentines or just a day of self care for you, there are so many different ways to spend the day.
It can be daunting wanting to break the tradition of going out for an indulgent meal as it's the norm, and of course, if you want to do this, go for it! Plus, remember one night of over indulging won't undo all your consistent hard work (long-term consistency is key!), however, if you're looking for something a bit different, here are some ideas for you:
Here are our top 5 tips for a FUN nontraditional happy Valentine's Day
Do some movement together, there are lots of things that you can do in the fresh air outdoors. Go for a long romantic walk, a hike over the moors, rock climbing, mountain climbing or a cycle ride to make the most of the fresh air. Take a picnic to enjoy whilst you're there.
If the weather isn't great or you'd prefer to do something inside, try a morning swim, a dance class or a couples workout. There's nothing like getting sweaty together 😉
Take some time to relax and maybe enjoy a relaxing bath with some nice bubbles (either type lol), listen to some music and destress.
Try an activity together, such as a cooking class, roller skating, ice-skating, rocking out in a karaoke booth, or trying your luck in an escape room (a personal favourite of Hannah's)
If you fancy cooking a meal instead of eating out, this can be a fun activity too! Try the following recipes adapted from bbcgoodfood.com and eatingwell.com for a yummy, nutritious three course meal! Plus cooking at home, can be made healthier by using pans that don't require any added oil, and grilling food or use the oven. Make your dessert from scratch too!
Tomato and Mozzarella Salad with Tomato Dressing – Serves 2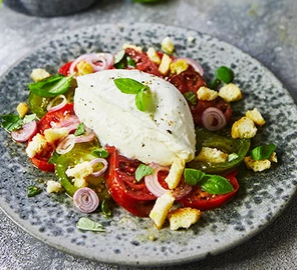 Nutrition:
Calories: 463
Fat: 41g
Saturates~; 13g
Carbs: 9g
Sugars: 4g
Fibre: 2g
Protein: 13g
Salt: 0.8g
Ingredients:
200g mixed tomatoes, sliced
1 large shallot, sliced into thin rings
5 tbsp extra virgin olive oil
3 drops of tabasco
1 tbsp white wine vinegar
6 basil leaves, shredded plus extra small leaves to serve
4 shop bought crostini, roughly crushed
1 ball buffalo mozzarella
Method:
Put the tomatoes and shallots into a bowl and season well with salt. Leave for 10 minutes for the tomatoes to release their juices.
Use a slotted spoon to remove the tomatoes and arrange on two plates. Sprinkle the shallots on top and save the juice from the tomatoes.
Whisk the extra virgin olive, tabasco and vinegar into the reserved tomato juices to make a dressing. Drizzle over the tomatoes and shallots. Scatter the shredded basil and crostini over the top. Cut the mozzarella and place half in the centre of each plate. Season with fresh black pepper and top with extra basil leaves.
One-Pan Roast Salmon with Leeks, Onions & Parsley – Serves 2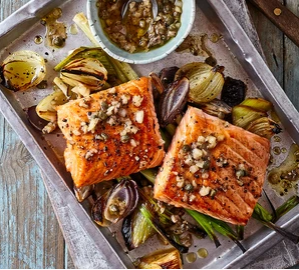 Nutrition:
Calories: 712
Fat: 48g
Saturates: 8g
Carbs: 19g
Sugars: 15g
Fibre: 7g
Protein: 47g
Salt: 1.6g
Ingredients:
2 small white onions, cut into quarters72 red onions, cut into quarters
2 tbsp olive oil
1 leek, cut into rounds
4 spring onions, trimmed
2 salmon fillets
For the dressing:
1 anchovy
1 tbsp capers, drained
2 handfuls of parsley leaves
1 shallot, finely chopped
1 tbsp Dijon mustard
1 tbsp red wine vinegar
2 – 3 tbsp olive oil
Method:
Heat the oven to 200°C/180°C fan. To make the dressing, mash the anchovy on a board and chop the capers into the mashed anchovy. Scatter the parsley over and chop everything together until it's all finely chopped and combined. Put in a bowl with the shallot, mustard, vinegar and oil. Stir well and leave to one side.
Tip the quartered onions into a small roasting tin, drizzle with some of the oil and toss. Roast for 10 minutes and then add the leeks. Roast for another 15 minutes until golden and soft.
Place the spring onions in the tin and put the salmon fillets on top, skin-side down. Season and drizzle with the rest of the oil. Roast for another 10 mins. When the salmon is cooked through, remove from the oven and spoon half the dressing over everything. Serve with the remaining dressing on the side.
Chocolate Covered Prosecco Strawberries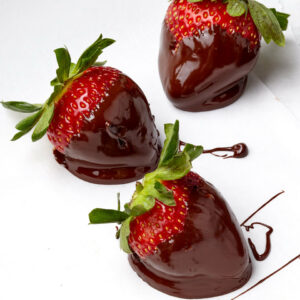 Nutrition:
Calories: 50
Fat: 2.8g
Saturates: 1.5g
Carbs: 7.5g
Sugars: 5.1g
Fibre: 1.3g
Protein: 0.6g
Salt: 0.2g
Ingredients:
12 medium strawberries, washed and dried
2 cups prosecco
1/3 cup dark chocolate chips
Method:
Place the strawberries and prosecco in a bowl and combine. Place a bowl or plate on top of the strawberries to keep them under the prosecco. Cover and keep in the fridge for 8 hours or overnight.
Remove the strawberries and place on a plate lined with kitchen paper, and pat dry. Place chocolate chips in a microwave-safe bowl. Microwave on High in 20-second intervals, stirring each time, until melted, about 1 minute. Dip the strawberries in the chocolate and place on a plate covered with baking paper. Refrigerate until the chocolate hardens, about 15 to 20 minutes.
Remember, this holiday is all about love – all love, not just romantic! – so however you choose to spend the day, go easy on yourself if you have a few extra chocolates or an extra glass of wine, fill the day with fun activities to keep yourself active (😉) and always love yourself first.
Much Love
Caroline & Hannah xx