Boo!! It's that time of year again. Are you looking for inspiration for Halloween treats to eat or places to go, then look no further! There's lots of things to do for both adults and children of all ages to make this the spookiest Halloween yet!
Try some of the following activities:
Carve a pumpkin. A very traditional thing to do at Halloween, but so much fun and great to do with the kids. Try carving different faces or animals and putting lights inside so that you can see them glow in the dark. Make them as scary as you can! Try finding stencils on google, or come up with your own design, to create the perfect pumpkin.
Decorate the house. Go to town with decorations such as spooky ghosts, glowing pumpkins, bats, witches, spiders, and cats. Tape a large spider's web across a doorway and let the kids add decorations such as bats and spiders. Make Halloween paper chains, large cut out paper spiders and wrap a glass jar with some bandages, add a couple of googly eyes and pop a candle inside. A decoration that has become hugely popular is to have a huge spiders web outside the house, Hannah? Lol 😊
Watch scary movies. Grab the popcorn and snuggle up in front of the fire and watch scary films together. For children try Hocus Pocus, Monster House, Casper or Double Trouble and for adults, get ready to be scared with Halloween, The Omen, Carrie and Children of the Corn.
Make a Halloween wreath. Either make a spooky one with ghosts, spiders and bats to hang outside or make one out of sweets by sticking sweets onto a foam wreath, and hang some ribbon around to hang it up.
Make a Halloween buffet.
Cut ghost and bat shapes out of paper to sprinkle on the table and add a light up pumpkin as a centrepiece. Try some of these spooky food ideas from NetMums:
Eyeball eggs: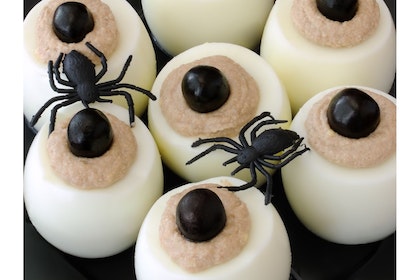 Make eyeball eggs by hard-boiling eggs, carefully taking the shell off and slicing the top off. Scoop out the yolks and fill with tuna mayonnaise. Slice some black olives and put one on top of each egg.
Spooky Spiders: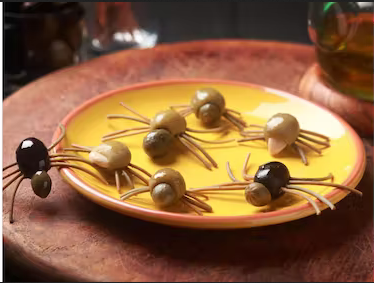 Turn olives into spooky spiders. Push capers into the top to make the spider heads and carefully poke twigs of rosemary into the side of the olives to make the legs.
Grilled Mummies: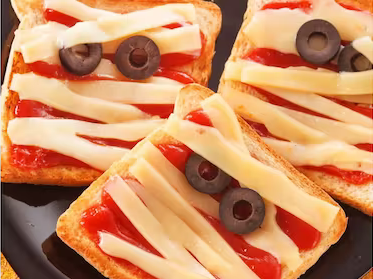 Grill sliced bread on one side and then spread the other side with tomato puree.
Add strips of cheese to make the mummy's bandages and pop back under the grill just until the cheese starts turning golden.
Add sliced olives for the eyes.
Dead Man's Fingers: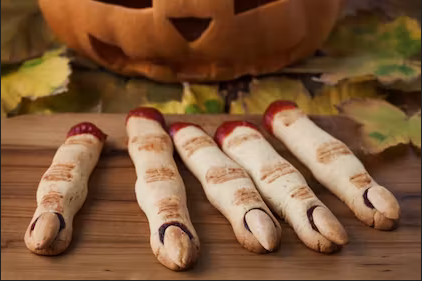 Make these dead man's fingers from bread dough.
Simply mould into shape and add almonds for the fingernails. Dip each finger in ketchup for blood.
Beef and Pumpkin Chilli: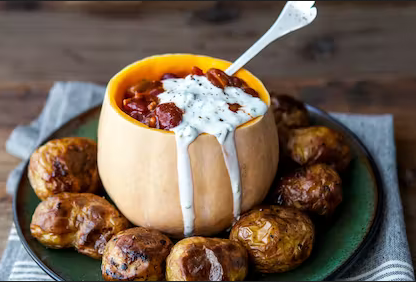 Ingredients
1 small pumpkin or butternut squash
Vegetable oil
500g minced beef
1 small onion, diced
1 green pepper, de-seeded and diced
1 tbsp tomato purée
1 x 400g tin kidney beans, drained and rinsed
400g passata
1 x 400g tin chopped tomatoes
1 tsp chili powder
1/2 tbsp dark-brown soft sugar
700g baby potatoes
1 crème fraîche
30g watercress, finely chopped
Method
Pre-heat the oven to 180°C/Gas Mark 4. Peel and halve the pumpkin and scoop out the seeds. Dice half of the pumpkin into 1cm cubes and reserve. Chop the remaining pumpkin into large chunks, place in an oven tray, drizzle with oil and season. Roast in the oven for approximately 25 minutes or until cooked through.
Meanwhile, place a large pot on a medium-high heat. Add half the oil and heat until beginning to smoke. Add the minced beef and fry until browned. Drain the beef onto some kitchen towel.
Turn the heat down to medium. Add the beef back to the pan then add in the onion, diced pumpkin and pepper, cooking until onions are translucent. Stir in the tomato purée and cook for a further minute before adding the kidney beans, tomato juice and chopped tomatoes. Cover with a tight-fitting lid and simmer for one hour.
Place the potatoes in an oven tray, drizzle with vegetable oil and season. Place in the oven and roast for 30-40 minutes, or until cooked through and crisp on the outside.
Once the roasted pumpkin is cooked, remove from the oven and place into a blender. Add a ladleful of liquid from the chili and blend until smooth. Add to the simmering pot of chilli and stir through.
Mix the crème fraiche and watercress and add seasoning to taste.
Divide the potatoes between four bowls or hollowed out pumpkins. Add a ladleful of chilli and serve with a generous dollop of crème fraîche. Alternatively, serve the chilli in a hollowed-out pumpkin with the potatoes arranged around the bottom for a Halloween or Bonfire Night party.
Ghost Pizza: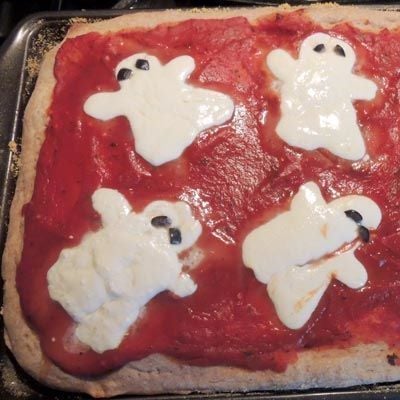 Try making this spooky ghost pizza that Hannah shared in our Facebook group last week, from everydayhealth.
Ingredients
1 whole-wheat pizza dough
1 cup passata
1 tbsp mixed herbs
1 tbsp garlic
Pinch of salt
1 block mozzarella cheese or any cheese of your choice, sliced
Black olives, chopped
Method
Preheat oven to 250°C
Roll out pizza dough into desired shape and place on baking sheet or pizza stone.
Mix the passata, mixed herbs, garlic, and salt. Spread on top of the pizza base, reduce the oven to 180°C and bake for 8 minutes.
While the pizza is baking, use a ghost shaped cutter to cut ghosts from the cheese of your choice.
Remove pizza from oven, arrange cheese ghosts on top with olive slices for eyes, and return to the oven for 5 minutes or until the cheese has melted.
Don't forget the sweet treats!
Have fun baking with the kids and try these treats from bbcgoodfood.com. Be careful not to eat them all at once as they are quite high in fat and sugar.
Halloween Cookies (Makes 20 – 10 bats and 10 spiders)
Nutrition per cookie
Cals: 222
Fat: 10g
Saturated Fat: 6g
Carbs: 29g
Sugars: 18g
Ingredients
150g butter, softened
50g caster sugar
100g light brown soft sugar
1 tsp vanilla extract
1 large egg
250g plain flour
¼ tsp baking powder
100g milk or dark chocolate chips
To decorate
60g dark chocolate, melted
60g royal icing sugar, mixed with 2 tsp water
20 Maltesers
5 cream-filled chocolate sandwich cookies
10 caramel-filled chocolates
Method
Heat the oven to 180°C, and line two baking sheets with baking paper. Beat the butter and sugars together with an electric whisk until light and fluffy. Add the vanilla and egg and beat again to combine. Stir in the flour and baking powder with a wooden spoon until you have a stiff dough, then fold in the chocolate chips.
Divide the dough into 20 pieces and roll into balls. Arrange on the prepared baking sheets, well-spaced out so there's space for spreading (you may need to bake them in batches). Press the tops of the cookies down very slightly using the palm of your hand or the bottom of a glass. Bake the cookies for 10-12 mins until golden around the edges, then leave to cool on the baking sheets for 10 mins. Transfer to wire racks and leave to cool completely.
To make the spider cookies, lay 10 of the cooled cookies out in front of you. Spoon the melted chocolate into a piping bag and the royal icing into another, then snip off the ends using scissors. Pipe a dot of royal icing onto the back of two Maltesers and arrange these onto one of the cookies to create the head and body of the spider. Repeat with the remaining nine cookies and the rest of the Maltesers. Pipe eight spider legs around the bodies of the spiders using the chocolate. Pipe two small dots of royal icing onto the heads to create eyes, then pipe very small dots of chocolate over the eyes to create pupils. If you like, decorate the bodies with the royal icing.
To make the bat cookies, lay the remaining 10 cookies out in front of you. Separate the cream-filled chocolate sandwich cookies, and carefully scrape the cream filling off the chocolate cookie pieces. Cut the chocolate cookie pieces into semicircles using a small, serrated knife. Stick a caramel-filled chocolate onto the middle of each cooled cookie using the royal icing, then use a little more to stick a chocolate cookie semicircle on either side of the chocolates to make the bat wings. Pipe eyes onto the chocolates using the royal icing and melted chocolate.
Halloween Cake Pops (Makes 10)
Nutrition per cake pop
Cals:242
Fat: 13g
Saturated Fat: 7g
Carbs: 28g
Sugars:24g
Ingredients
100g/4oz madeira cake
100g Oreo cookie
100g bar milk chocolate, melted
200g bar white chocolate, melted
few Smarties and icing pens, to decorate
You will also need
10 wooden skewers
½ small pumpkin or butternut squash, deseeded, to stand pops in
Method
Break the Madeira cake and cookies into the bowl of a food processor, pour in the melted milk chocolate and whizz to combine.
Tip the mixture into a bowl, then use your hands to roll into about 10 walnut-sized balls. Chill for 2 hrs until firm.
Push a skewer into each ball, then carefully spoon the white chocolate over the cake balls to completely cover. Stand the cake pops in the pumpkin, then press a Smartie onto the surface while wet. Chill again until the chocolate has set. Before serving, using the icing pens, add a pupil to each Smartie and wiggly red veins to the eyeballs.
Halloween Cupcakes (Makes 22)
Nutrition per cupcake
Cals: 517
Fat: 24g
Saturated Fat: 15g
Carbs: 70g
Sugars: 59g
Ingredients
200g butter, softened
300g golden caster sugar
200g dark chocolate, melted
2 eggs
250g self-raising flour
¼ tsp baking powder mixed with 100ml boiling water
50g cocoa powder
200ml milk
1-2 tsp black food colouring (optional)
For the buttercream
300g unsalted butter, softened
500g icing sugar
1 tsp vanilla extract
black food colouring
For the decorations
pack of Smarties
black icing pen
1 pack mixed coloured fondant icing (you'll need pink, green, blue and white)
liquorice and strawberry laces and other sweets such as jelly fangs and liquorice allsorts
icing eyes (see tip, below)
Method
Heat oven to 180°C. Line two 12-hole cupcake tins with cases. Beat the butter and sugar until the mixture is creamy. Beat in the chocolate and the eggs until combined, then stir in the flour and baking powder, cocoa powder, milk, and food colouring, if using. Spoon the mixture evenly between the cupcake cases, levelling the tops.
Bake for 20 mins or until the cakes are risen and springy to the touch. Cool for 5 mins in the tin, then lift out onto a wire rack to cool completely.
To make the buttercream, beat the butter until soft, then stir in the icing sugar a little at a time. Beat in the vanilla and some black food colouring, then transfer to a piping bag fitted with a plain nozzle.
For the cat face, pipe the black buttercream in an even swirl onto the cupcake and smooth with a palette knife. Pipe two ears by making a blob for each and pulling the icing bag upwards to a point. Add two eyes on each with Smarties and use the black icing pen to paint a pupil onto each. Add a triangle nose made of pink fondant icing and create whiskers with sweets.
For the monster faces, cut circles of green and blue fondant to fit the tops of the cupcake and fix them in place with a little buttercream. Add eyes, noses and mouths made of sweets or use icing eyes (see tip, below). For skeletons, cut out shapes with white fondant and fix in place with the buttercream.
Go trick or treating
Dress up in your spookiest costume and take the kids trick or treating.
Enjoy a spooky night and visit some of the local Halloween themed events in the local area:
Halloween family party on Saturday 29th October from 3pm til 9pm at The Old Kings Arms, The Green, Horsforth.
Enjoy live music with the band 'Hollywood Tricks' and DJ Chris Hall. Win prizes for the best fancy dress.
Tickets cost – children – £2.50 and adults – £5.
Spookulele on Saturday 29th October at 7pm.
Enjoy the annual Spookulele horror show from Otley Ukulele orchestra. Enjoy spooky music and terrifying costumes from the band.
Tickets £7.50 per person from Eventbrite (under 18s must be accompanied by an adult)
Halloween ZigZag fun at Monster Kidz Beeston (6 Matrix Court, Leeds) on Tuesday 18th October from 5.30pm til 7.30pm.
Get the children dressed up in their ghostly Halloween costumes.
This is a member only event but you can join on the night for only £5 per family per year.
Tickets are £5 per child.
Halloween event at Leeds Corn Exchange on Saturday 29th October at 8.30pm.
Spend a truly spooky night in hidden rooms, alcoves, and twisted staircases of Leeds Corn Exchange.
Halloween ghost hunt at Armley Mills on Monday 31st October from 8pm til 1am.
Take a peek inside Armley Mills and the harsh living conditions of those who worked there and join an overnight ghost hunt at these terrifying mills.
Tickets are £59 per person.
Kid's Halloween Disco on Thursday 27th October at 12pm til 1.30pm at Beck and Call, Stainbeck Road, Chapel Allerton, Leeds.
Ages 4+. Tickets: £8
We hope the have the spookiest, scariest Halloween ever! 
Much Love
Caroline & Hannah xx