Danish week challenge
Week 8 of the Great British Bake Off brought us Danish Week which has proved to be quite testing but we love a challenge and we have come up with a lighter version of the traditional Danish rye bread (or Rugbrød).
The Danes are well known for their rye bread and there are many different varieties, most of which are quite sweet and dense and loaded with seeds.
Rye bread is filling as it contains more fibre than white bread making it a nutritious, healthy alternative. It doesn't spike blood sugar levels which can lead to uncontrollable hunger pangs and loss of energy.
Our version doesn't contain seeds, but feel free to add in sunflower seeds, pumpkin seeds, chopped almonds and flaxseeds!
We've even given you some delicious topping ideas for your rye bread! Perfect for a light lunch or a snack.
RYE BREAD

Ingredients:
200g Rye Flour, plus extra for dusting
200g Wholemeal Flour
7g Sachet Fast-Action Dried Yeast
250ml Warm Water
½ tsp Salt
1 tbsp Honey
Method:
Put the flour, yeast and salt into a bowl.
Mix the honey with 250ml warm water in a jug and pour the liquid into the bowl. Mix to form a dough adding a little more water if necessary until you have a soft dough.
Lightly flour a work surface and knead the dough for 10 minutes until smooth.
Place in a well-oiled bowl, cover with cling film and leave to rise in a warm place for 1-2 hrs, or until roughly doubled in size.
Dust a 900g loaf tin with flour.
When the dough is well risen, place onto the work surface and knead briefly to knock out any air bubbles. Shape into a smooth oval loaf and place into the loaf tin. Cover the tin with oiled cling film or a damp tea towel and leave to rise somewhere warm for a further 1 – 1 ½  hours, or until doubled in size.
Heat oven to 220°C. Remove the cling film and dust the surface of the loaf with rye flour. Make a few slits on the top with a knife and place in the hot oven.
Bake for 30 mins until dark brown. Remove from the oven. The loaf should sound hollow when tapped on the bottom. Place on a wire cooling rack and leave to cool for at least 20 mins before serving
HEALTHY RYE BREAD OPEN SANDWICHES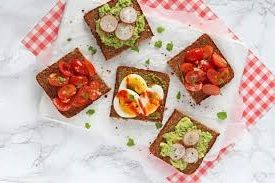 Ingredients:
6 slices of rye bread
1 Avocado
1 Lime
A Few Chilli Flakes
4 Radishes
2 tsp Green Pesto
2 Boiled Eggs
A Drizzle of Chilli Sauce
8 Cherry Tomatoes
A Drizzle of Olive Oil
1 – 2 Garlic Cloves
Fresh Basil
Method:
Avocado, Lime & Radish
Mash the avocado and spread it onto two slices of rye bread. Squeeze some fresh lime juice over, and top with thin slices of radish.
Pesto & Boiled Egg with Chilli Sauce
Spread the pesto onto two slices of rye bread. Add a sliced boiled egg on each and drizzle some chilli sauce on the top.
Tomato, Garlic & Basil
Chop the cherry tomatoes and place in a bowl. Add the crushed garlic, some torn basil leaves and a little olive oil and stir. Divide between two slices of rye bread.
Season all three with salt and pepper.
W Fitness | Park Centre, Station Road, Horsforth, Leeds, LS18 5NX | 0113 345 2550