We are just 6 weeks away from Christmas. Are you wanting to be fit and healthy, have more energy, tone up and lose a little fat? Then have a look at our two-part plan to achieve this in just 6 weeks. All you need is a little self-discipline to stick to a healthy eating plan and work out for just 10 to 20 minutes a day and you could see results by Christmas!
I find a good way to stay on track is to mark my goal date on a calendar and cross off the days as I go, that way I can see that I am getting closer to my goal, and it keeps me motivated and in the right mindset.
The six weeks will include healthy eating and a mix of cardio and strength training exercise, which can easily become part of your lifestyle and routine which you can then continue into the new year.
We are not giving you a 'diet plan' as these tend to be unsustainable. As soon as you are told exactly what and what not to eat, you suddenly crave the things that you can't have. Instead, we will give you a list of healthy options for breakfast, lunch, and dinner along with healthy snacks too. There are no 'bad' foods, and we don't recommend cutting out a particular food group as this can mean you are missing out on vital nutrients which are needed to keep the body functioning properly.
We are splitting this into two sections with the healthy eating plan this week and the exercise plan to follow next week. Try to plan your meals and batch cook where you can.
Your 6 Week Healthy Meal Plan
Below is a selection of healthy meal and snack ideas. Choose the combination that works for you. If you love eggs, you don't always have to have them for breakfast. Maybe have Greek yogurt and berries for breakfast and have an omelette for lunch. Similarly, the Greek yogurt could be one of your healthy snacks. Lunch and dinner can also be switched around. Every day is different and whilst you might sometimes have the time to prepare a meal, there will be other times where you will need something quick or on the move. Try to have 3 meals and 2 snacks per day. Watch portion sizes as this is the easiest way to overeat. We need less food than we think we do – but at the same time, always listen to your body. If it's telling you you're hungry, make sure to grab something to eat!
Breakfast ideas:
Eggs are very versatile. Try them boiled, scrambled, poached or an omelette. You can add mushrooms, tomatoes, spinach or smoked salmon for a change. You can also make little egg pots ahead of time, which can then be reheated when you need them. Simply divide some tomato, spinach or a little bacon in the bottom of some ramekin dishes (these will last for 4-5 days in the fridge so make as many as you need). Whisk two eggs until smooth and season with a little salt and pepper. Pour into the ramekin dishes and bake in the oven at 180°C for 30 minutes.
Banana pancakes. Mash a banana and mix with one whisked egg. Heat a little butter in a pan and, when hot, pour in the mixture. When cooked add a few blueberries to serve.
Greek yogurt with berries. Choose from blueberries, raspberries, strawberries or blackberries.
Porridge. As the weather is getting colder, this is a lovely warming breakfast. Make with milk, water or half and half. Add berries, banana, nuts, seeds, a pinch of cinnamon, nutmeg, ground ginger or a little cacao powder.
Breakfast smoothie. This is a great option for when you need something on the go. Strawberries, blueberries, raspberries and bananas are a good staple, but you can add any fruit you like. Frozen fruit is great in smoothies. Add a little Greek yogurt and some almond milk or coconut milk. You can add 1 tablespoon of peanut butter for some extra protein.
Lunch ideas:
Homemade soup. This is super healthy, quick and easy to make and can be made in batches and frozen for a quick meal. Just add a little oil to a pan and throw in whatever vegetables you have (this is great for using leftover veg). Add either chicken or vegetable stock and bring to the boil. Simmer for 20 minutes or until the vegetables are soft. Add salt, pepper and any spices to season and then blitz in the blender until smooth. You can also add lentils, meat, rice or noodles.
Avocado and egg sandwich. Mash half an avocado and spread on some sourdough bread. Top with either slices of boiled egg or a poached egg.
Salad. Chop lettuce, tomatoes, cucumber and onion and add some grilled chicken, bacon, eggs, feta cheese, tuna, salmon, seeds or nuts and top with a vinaigrette dressing and some herbs.
Vegetable frittata. This can be made ahead of time and heated up or even eaten cold. Add a little oil to a pan and add a selection of vegetables such as ¼ red onion, 1 pepper, 3 broccoli florets and a large handful of spinach. Cook until the veg has softened, adding the spinach in last and allow to wilt, and season with salt and pepper. Whisk 4 eggs and season with salt and pepper. Add the vegetables along with 70g grated cheese and mix well. Pour the mixture into a baking dish and bake at 200°C for 15-20 minutes until set. Slice into 4 pieces. This can be kept in the fridge for up to 4 – 5 days and can be reheated or eaten cold.
Homemade hummus and pitta bread or crunchy vegetables. Hummus is so easy to make yourself and tastes much nicer than shop bought. Try this easy Jamie Oliver recipe:
Hummus – Ingredients:
1 x 660 g jar of chickpeas
1 teaspoon tahini
2 tablespoons natural yoghurt
1 pinch of cayenne pepper
½ a clove of garlic
½ a lemon
Method:
Tip the jar of chickpeas, juice and all, into a blender.
Add the tahini, yoghurt and a pinch of cayenne pepper, then peel and add the garlic.
Squeeze in the lemon juice, then blitz until smooth.
Taste and season to perfection, then serve with an extra sprinkling of cayenne.
Serve with wholemeal pitta bread or carrot sticks, cucumber, or celery.
Dinner ideas:
Chicken skewers. Grill pieces of chicken on skewers for 15-20 minutes. This is a versatile dish that you can have with wholemeal rice, salad, wholemeal pitta bread or flatbread. Add lettuce, tomato, onion, and lemon juice if having in pitta or flatbread.
Pasta carbonara. Pasta can be a great addition to a healthy eating plan and is not the 'naughty' food that it has a reputation for being. It's a great meal to use up leftover vegetables and if you cut out heavy cream sauces and cheese, it's easy to provide a pasta meal that is low in carbohydrates and calories. Try making a carbonara with linguine using the following recipe from goodhousekeeping.com:
Pasta Carbonara – Ingredients: Serves 4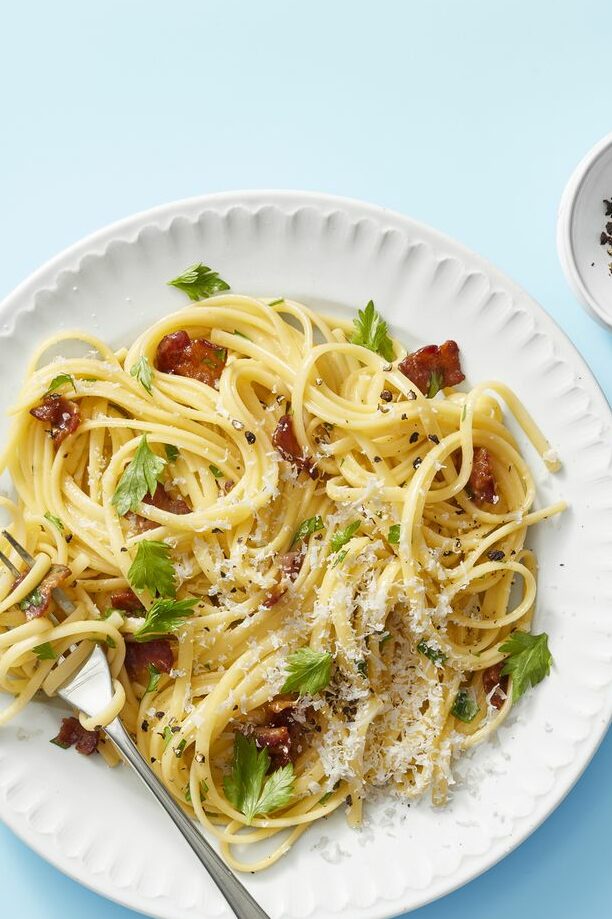 12 oz. linguine
6 oz. sliced bacon (cut into 1-inch pieces)
3 large egg yolks
1/2 cup freshly grated Parmesan
1/4 tsp. salt
1/4 tsp. pepper
1/2 cup chopped parsley
Method:
Cook the linguine according to packet instructions. Reserve cooking water, then drain pasta. Cook bacon in large skillet on medium until crisp. Transfer to paper towel-lined plate.
Whisk together egg yolks, freshly grated Parmesan, and salt and pepper in large bowl. Gradually whisk in 1/4 cup reserved warm cooking water. Add hot pasta and toss to coat, adding more reserved water if pasta seems dry.
Fold in chopped parsley and bacon. Serve with lots of cracked pepper and extra Parmesan if desired.
Healthy roast dinner. It is possible to enjoy a healthy Sunday lunch (or on any day for that matter 😊). Roast your chicken and enjoy with a selection of vegetables either steamed or roasted (for extra taste). Enjoy a few roast potatoes too and top it off with a little gravy. You can still have stuffing and even a Yorkshire pudding, just have one stuffing ball and make the Yorkshire puddings with skimmed milk.
Try this Moroccan stew from BBC Goodfood which you can batch cook to save or use the leftovers for tomorrow's lunch.
Moroccan Stew – Ingredients: Serves 4
A large handful of flaked almonds
1 tbsp ghee
2 red onions, finely sliced
4 garlic cloves, finely chopped
Thumb-sized piece ginger (about 40g), unpeeled if organic, finely grated
1 tsp ground cumin
1 tsp ground cinnamon
½ smoked sweet paprika
4 chicken thighs, skin on
2 red peppers, sliced into thin strips
1 large lemon, cut into 6 thick slices
Handful green olives, stoned
250ml gluten-free chicken stock or bone broth
4 pitted dates or dried apricots, chopped
a small pinch of chilli powder or 1 fresh, red chilli, chopped (optional)
150g green beans, halved
Handful fresh coriander, chopped
Handful fresh parsley, chopped
Method:
In a large, dry pan, gently toast the almonds for 2 mins until golden – don't take your eyes off them, as they burn easily – then set aside.
In the same pan, heat the ghee and gently cook the onions for 8 mins until softened. Add the garlic, ginger and spices, and fry for 1 min more.
Add the chicken thighs, skin-side down, and cook until the skin is golden and crisp, then turn and cook to lightly golden on the flesh side.
Add the red peppers, lemon slices, olives, stock or bone broth and dates or apricots (and chilli, if using). Simmer with the lid on for about 40 mins until the chicken is cooked through.
If you find the sauce is too watery, take off the lid and leave it to reduce a little. If the sauce is too thick, add a few more tablespoons of water.
Add the green beans for the final 4 mins of cooking time. Season to taste and top with the coriander, parsley, and the toasted almonds to serve.
Creamy chicken curry. This is a lovely chicken curry recipe from pinch of nom which can also be batch cooked and frozen so that you can always have something healthy that is quick to reheat.
Creamy Chicken Curry- Ingredients: Serves 4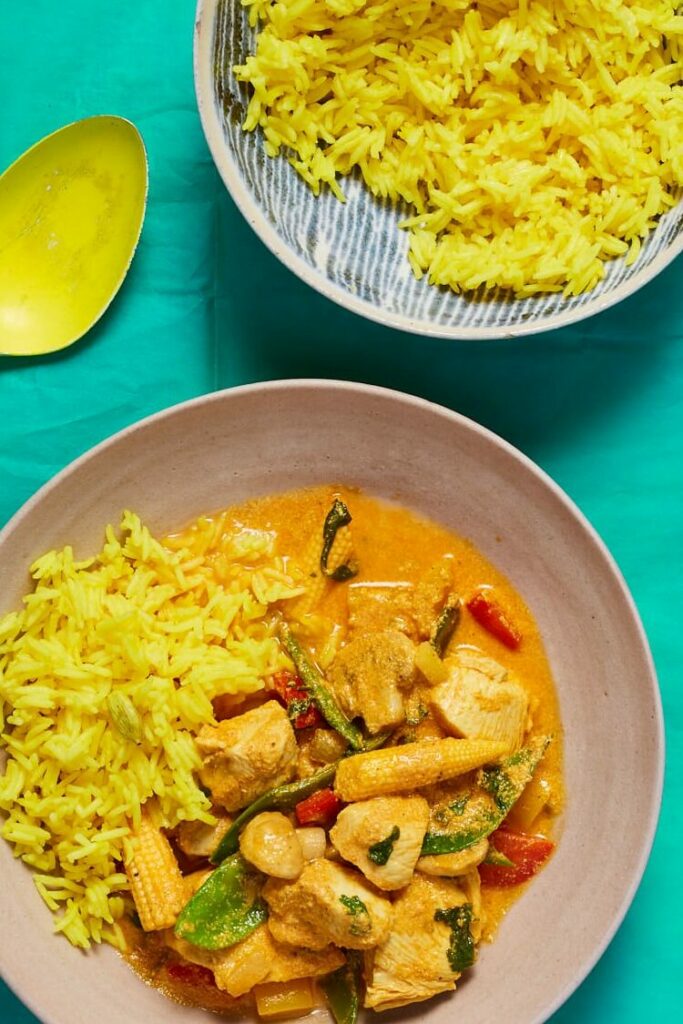 700g chicken breast diced (or chicken thighs if you prefer)
500g fat free Greek yoghurt
200g onion chopped
1 green chilli deseeded and chopped – you can use more if you like
20g fresh ginger chopped
3 cloves garlic crushed
1 small handful of fresh coriander chopped – reserve some for garnish
4 tsp garam masala
1 tsp ground turmeric
1 tsp sea salt
100ml chicken stock
70g tomato puree
1 tsp lime juice
1 courgette diced
2 peppers deseeded and diced, any colour is fine
100g baby corn chopped in half
100g mangetout chopped in half
6 mushrooms chopped in half
Low calorie cooking spray
Method:
Spray a large pan with low calorie cooking spray and heat.
Add the onion, chilli, ginger and garlic, and cook on a medium heat for a few minutes, until the onion starts to soften.
Add the salt, chopped coriander, turmeric and garam masala and cook for another couple of minutes.
Add the stock, allow to boil and simmer for around 5 minutes.
Reduce the heat to low and add the tomato paste, yoghurt and chicken. Stir well. Cover with a lid and cook for 15- 20 minutes stirring regularly.
10 minutes before the end of cooking, add the chopped veg and a squeeze of lime juice.
Garnish with some more chopped coriander and serve.
Have a look at our other blogs for some more healthy meal and snack ideas:
Remember not to be too hard on yourself. You don't have to starve yourself to lose fat, in fact that won't actually work and will just make you miserable. Metabolism, genes and hormones all have a part to play in losing weight/ unhealthy fat. Be mindful to eat healthily and to eat enough. A common misconception is the less you eat, the quicker you will lose weight. It is possible that you could not be eating enough which can make it hard to reach a healthy weight and maintain it, as well as the possibility of causing other health issues. You need calories to be able to burn calories. Not eating enough calories can send your body into starvation mode, slowing down your metabolism, breaking down muscle tissue to try to keep its energy store and causing your body to try to hang on to the fat in order to stay alive. Greatly restricting your calories also increases cortisol (the stress hormone) in the body which can increase fatigue, headaches, irritability, anxiety and weight gain. It's so important to fuel your body properly to reach your goals, no matter what they are! A woman typically needs 2000 calories a day to maintain her weight, and a 500 calorie deficit (1500 calories) to lose weight, but this can vary from woman to woman.
Don't rely purely on how hungry you feel or how full you are to determine whether you are fuelling your body properly. Cutting calories can be bad for your health, and is also unsustainable, which can lead to feelings of failure. Fad diets, whether that's cutting calories, juice diets, or any of the other many others out there on the market, simply do not work.
If you find that you are always thinking about food, always hungry, tired and irritable (long periods of time without eating leads to a drop in blood sugar), can't sleep properly or your weight has reached a plateau, then the chances are that you aren't eating enough. Ditch the scales and use measurements such as body fat percentage and inch measurements. See how you feel, how much energy you have and how well you are sleeping and use this as a guide instead.
Check out next week's blog for our easy 10-minute exercises that you can add in to your new healthy lifestyle to work towards the new healthy you 😊
Much Love
Caroline & Hannah xx